Size Guide
Overview
| SIZE | XXS | XS | S | M | L | XL | XXL |
| --- | --- | --- | --- | --- | --- | --- | --- |
| UK | 2 | 4 | 6 | 8 | 10 | 12 | 14 |
| EU | 30 | 32 | 34 | 36 | 38 | 40 | 42 |
| US | 00 | 0 | 2 | 4 | 6 | 8 | 10 |
| FRANCE/SPAIN | 30 | 32 | 34 | 36 | 38 | 40 | 42 |
| GERMANY | 28 | 30 | 32 | 34 | 36 | 38 | 40 |
| ITALY | 34 | 36 | 38 | 40 | 42 | 44 | 46 |
| JAPAN | 1 | 3 | 5 | 7 | 9 | 11 | 13 |
| KOREA | 33 | 44 | 55 | 66 | 77 | 88 | 99 |
Jeans & Trousers
| SIZE | XXS | XS | S | M | L | XL | XXL |
| --- | --- | --- | --- | --- | --- | --- | --- |
| BUST | 30 | 32 | 34 | 36 | 38 | 40 | 42 |
| WAIST | 25 | 27 | 29 | 31 | 33 | 35 | 37 |
| HIPS | 36 | 38 | 40 | 42 | 44 | 46 | 48 |
| LEG | 32 | 34 | 36 | 38 | 40 | 42 | 44 |
Shoes
| EU | 35 | 36 | 37 | 38 | 39 | 40 | 41 | 42 | 43 | 44 | 45 |
| --- | --- | --- | --- | --- | --- | --- | --- | --- | --- | --- | --- |
| US | 5 | 6 | 6.5 | 7.5 | 8.5 | 9 | 9.5 | 10 | 10.5 | 12 | 13 |
| UK | 3 | 4 | 4.5 | 5.5 | 6.5 | 7 | 7.5 | 8 | 8.5 | 10 | 11 |
| MEXICO | - | - | - | 4.5 | 5.5 | 6 | 6.5 | 7 | 7.5 | 8 | 9 |
| JAPAN | 21 | 22 | 22.5 | 23 | 24 | 25 | 25.5 | 26 | 27 | 28 | 29 |
| KOREA | 228 | 235 | 238 | 245 | 251 | 254 | 257 | 260 | 267 | 273 | 279 |
Belts
| SIZE | S | M | L | XL | XXL | XXXL |
| --- | --- | --- | --- | --- | --- | --- |
| WAIST | 28-30 | 32-34 | 36-38 | 40-42 | 44-46 | 48-50 |
| END TO END | 41 | 44 | 47 | 51 | 54 | 55 |
All about this experience
Course Description
AIARE Motorized Avalanche Rescue is a one-day stand alone course that is intended to be retaken on a regular basis in order to keep abreast of best practices in rescue techniques and gear. New participants will learn the basics of companion rescue, while returning participants will expand their skill set with advanced topics and realistic scenario practice to help improve their skills.
Each participant will have the opportunity to receive professional coaching on their rescue skills, and will receive a rescue card acknowledging the completion date.
AIARE Avalanche Rescue is a prerequisite for the AIARE 2 and Pro 1 courses. AIARE recommends that all backcountry travelers keep their skills current by taking an Avalanche Rescue course and receiving a rescue card at least every other year.
Who Should Take this Course
The Avalanche Rescue Course is a one-day course aimed both at new and experienced recreational backcountry snowmobilers / snowbikers and aspiring motorized avalanche professionals. 

Student Learning Outcomes
At the end of the Motorized Avalanche Rescue course the student should be able to:
Describe what to do if they or a member of their party is caught in an avalanche.

Identify and be able to use gear necessary for avalanche rescue.

Set up a realistic scenario in order to practice an avalanche rescue response.

Improve their response skills and times during and after the course with feedback from instructors and peers.

Develop a plan for continuing practice.
All students will have the opportunity to get feedback from an instructor on their rescue skills and timed practice in a realistic scenario.
Students who have previously taken an AIARE 1 or an Avalanche Rescue Course will find value in having a professional help them set up realistic scenarios, practice skills in a realistic setting, receive feedback from an instructor, keep up with current best practices, and have an opportunity to practice advanced rescue skills.
**minimum of 2 riders required**
You Might Also Like
Here's some of our most similar products people are buying. Click to discover trending style.
Recently Viewed Products
Don't forget! The products that you viewed. Add it to cart now.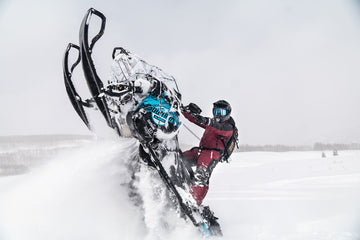 Professionals
Top Industry Professionals with the backing of the biggest companies in the snowmobile industry.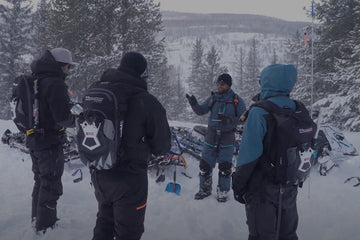 Top of the Class
Guides are required a Pro 1 Avalanche Certification at minimum. And lets not forget we're all Wilderness First Responders too. The backcountry doesn't always play nice.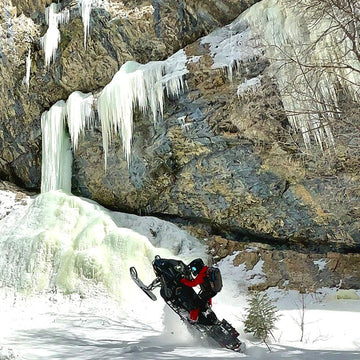 True Adventure
If you can handle it, we will take you! This isn't the follow the leader at a slow speed trail tour. Hope you ate your Weaties.